So, an unexpected free Saturday afternoon is declared on Friday. What's a man to do with himself? Take the bike out of course!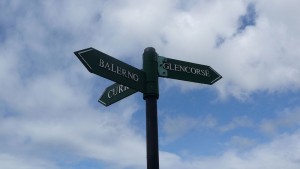 Now, I don't think I'd really recommend starting this loop in the Pentlands at the Union Canal outside town because there's a hill, then a hill, then a hill, then you lose a wee bit of height before a total bastard of a hill. After that there's another hill and at that point you've really just arrived in the Pentlands proper above Harlaw reservoir.
You could jump onto the same loop from Flotterstone and have a much easier time of it. Saying that, you could start at the carpark at Harlaw as well. Or Bonaly. Please yourself but I live near the canal so I came up through Heriot Watt, the donkey track, Kirkgate and then straight on as if heading for Craigentarrie.
Anyway, drop down to Harlaw reservoir and take the track around the south side then cross the slipway and head along the path to the north of Threipmuir reservoir. Peel off through the woods before you hit the car park then go left along the road that takes you over the bridge and up towards Bavelaw Castle.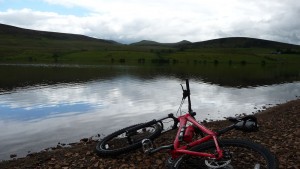 Go left at the top of the hill, over the gate, and through the field to the track that leads to The Howe. This track to The Howe could well be the best bit (opinions vary) so enjoy it. Then you've got a long easy stretch downhill past Loganlea reservoir to Glencorse reservoir.
Just after the Kirkton road-end, and just before the sharp bend in the road at Glencorse, hang a left onto the track between Bell's Hill and Harbour Hill that leads back to Harlaw. Now your legs get a break as you head back to the canal.
It's twenty-three-point-something miles if you start at my house. A few more days like that and I'll maybe have the legs to put some slicks on it and try to keep up with Stef on his road bike for a couple of hours!
More photos as ever if you want to see them.
Posted in
bike
.